Right now, getting the proper PPE for your business is more important than ever. However, with all the different styles on the market, it can be difficult knowing how to choose disposable gloves that are tailored to your specific needs. There's disposable glove thickness, powdered vs powder free gloves, exam grade vs industrial grade gloves, and more. That's why we've broken down the 6 most important factors in order to make the browsing process as simple as possible so you can be confident in your purchase.
Material
The number one factor to consider when you're figuring out how to choose disposable gloves is the material, which will determine their feel and function. The three most common materials are nitrile, latex, and vinyl.
Latex: Made of natural rubber, latex gloves are biodegradable, chemical-resistant, and maximize dexterity. They are considered the best all-around for fit and function, however they should not be worn by individuals with latex allergies.
Nitrile: Nitrile gloves offer the longest shelf life and are also puncture and chemical resistant. Most are FDA-approved for medical industries and food service. A synthetic material, nitrile removes the risk of latex allergies.
Vinyl: Vinyl gloves are cost-effective and ideal for short-term use. They are also available in "stretch" vinyl, which resembles the fit and feel of latex without the risk of allergies.
Still not sure which one is right for you? Learn more about the types of disposable gloves materials and best disposable gloves for sensitive skin.
Disposable Glove Thickness
The next factor to consider when determining how to choose disposable gloves is their mil thickness. This can range from 4 Mil (a.k.a. 4 millimeters thick) all the way up to 15 Mil. The higher the mil, the thicker the gloves, and the more wear and tear they will be able to sustain.
Depending how demanding your application is, and how durable and long-lasting you want your gloves to be, will guide the disposable glove thickness you should select.
Industrial Vs. Medical Grade Gloves
Medical gloves, also known as exam gloves, are designed with utmost security in mind to protect medical professionals from hazardous microorganisms. In order to qualify for medical grade, the gloves must meet the inspection standards of the FDA and ASTM. If you're a medical professional, look for "exam" in the product title to ensure your gloves meet the task at hand.
Workers outside the medical field should look at industrial grade gloves. If the glove does not say "exam", it is safe to assume that they are industrial grade.
Powdered Vs. Powder Free Gloves
Powdered gloves are designed with a lightly powdered, non-irritating corn starch that makes gloves easier to don. If your job requires gloves that you can quickly slide on or off, you may want to opt for powdered gloves.
Powder free gloves are generally more popular for jobs where this isn't a high priority, because the gloves don't leave any residue on hands or clothes. Powder free is mess free!
Color 
Consider how much you want your gloves to visually contrast with external materials. Do you want to increase or decrease their visibility? For example, mechanics often prefer black disposable gloves to lower the visibility of grease. Conversely, cleanroom workers prefer white disposable gloves to make contamination more visible on the glove. Some workers, like those in food service, prefer the gloves themselves to be brightly colored and highly visible.
You may also want to color code your disposable gloves to avoid any cross-contamination from different areas of a lab or simply to improve organization.
Size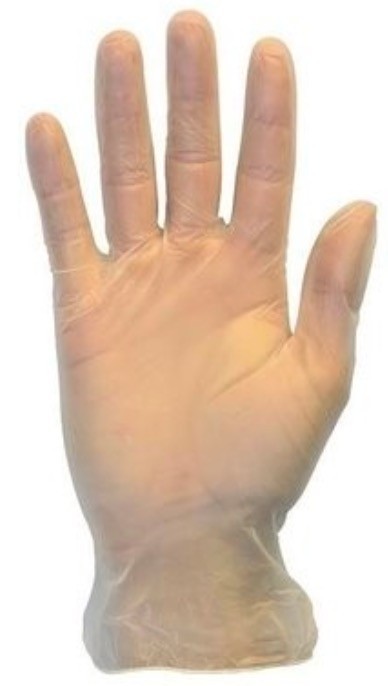 The last factor to determine how to choose disposable gloves is size. Picking the right size is essential for any PPE, but perhaps none more so than disposable gloves. Too small, and not only will they cause discomfort, but they also run the risk of tearing. Too big, and they not only decrease performance, but they also run the risk of increasing exposure to contaminants.
The right disposable gloves should feel snug yet comfortable and dexterous. Sizes range from Extra Small up to XXL, so we recommend visiting our glove sizing page to help you find the size that's right for you.
Order Disposable Gloves At PalmFlex Today
Whether it is industrial vs. medical grade gloves, or powdered vs. powder free gloves, it is our mission to offer a comprehensive selection so no professional goes unprotected. We hope we've made the browsing process clearer with these 6 factors to consider. For further info, you can also check out our disposable glove recommendations by job.
Ready to order? You can shop disposable gloves today or explore our complete disposable PPE collection. We offer free shipping on orders over $80 and discounted prices when you buy in bulk. Reach out to a product expert to learn more about how to choose disposable gloves for your needs.